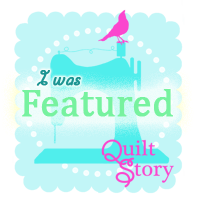 My Road to Redemption Quilt is being featured on
Quilt Story
today. I am so in love with their site, always inspired by the quilts they feature and honored to be included today! Stop by and tell them I sent you.
And for those of you who have been praying for me since
this post
, thank you so much! I've known this for about a week and a half, but now it's really official. I'm happy to announce that I'm once again a fabric designer! Well, my husband says that I always was one, but it's official . . . and I'm so thrilled to be with a wonderful company. Friday night I signed a contract with Andover Fabric. I can't thank them enough for giving me this opportunity. God is good! All the time. And now I can't wait to show you the fabric. :)
My favorite verse:
Trust in the Lord with all your heart and lean not on your own understanding. In all your ways acknowledge Him and He will make your path straight.
Proverbs 3:5-6
Love,