Hi everyone! Really quick, I wanted to share with you all my laundry room wall, which I wallpapered with fabric! It's so inexpensive to do this, compared with wallpaper and much easier because fabric can be stretched a bit but doesn't tear.
My laundry room is so tiny, that it was hard to get a decent picture. You can kind of tell that my other walls are pink. My husband says the room "burns his retinas" but I LOVE it!!! And since I do all the laundry . . .
Think of the possibilities ladies: your FAVORITE fabrics can now cover your walls. You can make borders or wainscoating OR cover the back walls of cabinets or your closets. It's so easy; just dip the fabric in liquid starch and adhere to the wall. I used a window-washing squeegee and it worked great. Two people together make it much easier than one. This small wall took about six yards of fabric and I slightly overlapped it in the middle to match the repeat.
Crystal's Craft Spot has challenge: fabric this week and I decided to enter this. If you've done something creative with fabric, you should enter too.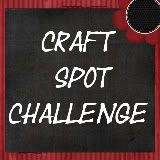 But in your hearts revere Christ as Lord. Always be prepared to give an answer to everyone who asks you to give the reason for the hope that you have. But do this with gentleness and respect. - 1 Peter 3:15
Love,